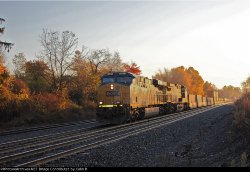 Welcome to the RRPictureArchives.NET contributor site of Colin B.

Hello, and welcome to my page, i am a photographer of the lower north east states. The Boston & Maine is where i frequently photograph trains, also im just a short Jaunt from the Batten kill railroad. Other railroads that i have fanned and will again are The B&A, NYC selkirk sub, and possibly "the water level route", D&H CP NYC to montreal, and the S&NC RR. i also try to get out to at least one steam locomotive trip a year in the summer time where ever they are running. My photographs are mostly, and i have tried to make them landscape shots, i figure if you are just getting photos of a train that might not be so awesome, add some mountains and a river, and some foliage and make it a scenic shot that you will enjoy, how ever this aways doesn't work because as any rail fann will tell you, sometimes while trying to find a train, the train will find you, and you have to get ahead to get some photos.so check out my albums and please, tell me what you think :), as for equipment i have a SLR body Cannon rebel t2-I. Also i am over on youtube, here is my channel if anyone is interested, most of my photo albums have a video that go along with them on my Youtube page: http://www.youtube.com/user/shininghappyperson7?feature=mhee




Thanks for visiting my site!



You may browse my collection of pictures via the menu located on the left hand side of the page. I hope you enjoy the collection and thanks for stopping by!